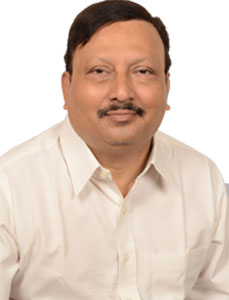 About Mr. Chandrashekhar Patil
Mr. Chandrashekhar Patil is a master spiritual healer, has been meditating for more than thirty years. Keenly interested in spirituality since childhood, he practiced Ashtang Yog and attained divine spiritual powers. The divine spiritual energies that he uses are his own spiritual achievement. The best part of such a good healer is to share his spirituality knowledge and teach others, which help to increase positive energy and awareness. While Mr. Patil has no living guru, his only guru is Shri Swami Samarth Maharaj of Akkalkot.
A Science graduate from the University of Mumbai, Mr. Patil had the job of a medical representative for over 12 years. During this period, he realised the need for a spiritual remedy to human diseases and disorders. He used to practice spiritual healing for several years already. At the age of 42, he founded Rajyog Spiritual Healing Centre and treated patients as his full-time occupation. Rajyog was founded on the sole aim of providing natural healing to diseases via God-given spiritual energy.
For more details about Rajyog Spiritual Healing Centre and its activities like treatment of physical diseases and psychological disorders as well as different types of workshops, please visit our website www.yogichealing.in